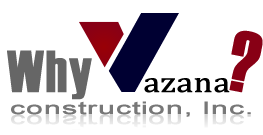 Services

Vazana Construction. Inc.has many years of learning and experience around home remodeling. We strive to shatter the stereotypical belief that better to move than deal with dreaded remodeling. Repairing or improving your home should be an exciting time; and with the right contractor is certainly is.
Value

From the person who answers the phone to the professional who puts the finishing touches on your remodel, we are a team that brings knowledge, experience, and value to your remodel and your home. We hope you'll give us a call, and a chance to show what we can do for you.
We Listen

Our approach starts with a clear understanding of what you want to accomplish. The first meeting or contact should be about your priorities for what you want done. We listen carefully and share our expertise and information once you have explained what you need or want.
We Know

Remodeling starts with and ends with completing our job to your satisfaction. We strive to design to meet needs, recognize and solve problems, and give you the ultimate living environment whether it be a kitchen or a bathroom, an outdoor living area or a total gut and rebuild of your home. Working in thousands homes, we've seen some unimaginable situations. No matter what your current home situation, how old your home, or what needs to be done, we know how to do it.
We Care

Making your home your castle is #1 for us. We take pride in giving our customer the best experience from start to finish. We work hard to get it right, but if we make a mistake, we correct it. We are completely dedicated to you, our customer. We offer 360 degrees of service from the first call to the last broom sweep.
I want to thanks all of our customers for recommending Vazana Construction to your friends and family with confidence, I would like to say that all of your recommending are extremely appreciated.
General Contractor South Bay, Ronen Vazana
design & develop by ej 424-209-9974